---
Dr. Scott Williams and the Ascent Family Dental team stand by our commitment to take the most conservative yet effective approach to dental restoration solutions. This is precisely why we may recommend a dental onlay as an alternative to a complete dental crown procedure.
---
What Is A Dental Onlay?
A dental onlay is a restorative solution performed to repair a partially damaged or decayed tooth. An onlay involves placing a piece of material—often porcelain or metal composite—over the surface of an injured tooth to restore its natural structure, function, and appearance. This technique is most commonly used on molars. We like to describe an onlay as a treatment between a dental filling and a full dental crown.
Onlay vs. Inlay: The Key Difference
Many people may have heard the terms inlay and onlay used interchangeably, but Ascent Family Dental feels it is important for our patients to understand the differences. While an onlay replaces a portion of the tooth cusp (the raised, biting surface of the tooth), an inlay sits between the cusps. In this way, inlays are similar to dental fillings.
Onlay vs. Dental Crown: The Key Difference
Onlays are occasionally referred to as partial crowns, making the distinction between the two rather murky. However, onlays are a far less invasive procedure as compared to dental crowns and enable patients to retain a portion of their natural tooth.
Dental Crown: With a dental crown procedure, our team will remove the damaged portion of the tooth and any remaining healthy tooth to create an optimal shape. Essentially, a small portion of the tooth is left on which the dental crown adheres.
Dental Onlay: Alternatively, when undergoing an onlay, Dr. Williams will gently remove only the decayed or damaged tooth. He then smooths the tooth and places the onlay over the missing portion of tooth cusp. When you eat and chew, you will bite down on the new onlay and the remaining natural tooth.
Unfortunately, however, if the tooth is too significantly damaged, a dental crown may be the best option for restoration. Dr. Williams will recommend the best solution for you should you require tooth restoration.
The Onlay Procedure
Dental onlays typically requires two appointments. When you arrive at Ascent Family Dental for your initial dental onlay appointment, Dr. Williams and his compassionate team will ensure that all your questions are answered prior to the procedure.
During this first appointment, our team will administer a local anesthetic to numb the area surrounding the tooth. Your gums, jaw, and teeth will be painless and comfortable. He will then gently remove the damaged or decayed areas of the tooth. After the tooth is shaped appropriately and any rough edges smoothed, we will take an impression of the tooth.
This impression is generally sent out to a specialized lab where your personalized onlay is created. This custom piece may take days or weeks to prepare to ensure the best fit for you. Dr. Williams will place a protective temporary onlay over the tooth in the meantime.
Your second appointment will occur after our team has received your customized onlay. Dr. Williams will clean and polish the area, ensuring that it is healthy and ready for onlay placement. He will then permanently adhere your natural onlay to the tooth. We are careful to ensure that the new onlay fits you properly and is comfortable.
Maintain Your Smile With Natural Onlays
Our team's goal is to preserve as many healthy teeth as possible while giving you the most natural smile even after cosmetic and restorative procedures. Ascent Family Dental offers a variety of onlay compositions to provide you with the best option for your individual case. Each material type is unique in their strength, longevity, and aesthetic. Popular onlay materials include:
Porcelain
Ceramic
Composite resin
Metal materials (gold or silver)
How To Care For Your Dental Onlay
Caring for your dental onlay is critical to its long-term success. Be sure to follow these follow-up instructions to ensure a comfortable experience and avoid any complications:
Avoid eating or chewing immediately. Following your initial onlay appointment, our gums, cheeks, and tongue will remain numb for several hours. You can risk biting and damaging the inside of your mouth if you attempt to eat while numb. Wait for the anesthetic to wear off, first.
Avoid hard or stick foods for 24 hours. Although Dr. Williams' onlay bonding material is incredibly strong, the substance does require time to completely adhere the onlay to your natural tooth. Avoid loosening the onlay by staying away from crunchy, hard, or sticky foods for at least 24 hours following onlay (temporary and permanent) placement.
Brush and floss regularly. You may return to your regular oral hygiene routine. Be sure to brush two times each day and floss daily. It's important to remove any food particles or bacteria from the onlay site to avoid cavities and decay in the remaining portion of the tooth.
Avoid teeth grinding. Consistent movement and pressure over the new onlay can cause it to loosen or fall off. Be sure to avoid clenching or grinding your teeth during the healing period and throughout the life of your onlay. If you are aware of nighttime or stress-related teeth grinding, please let Dr. Williams know as he can advise solutions to help.
Monitor for discomfort. Mild soreness or discomfort is not uncommon following any dental procedure. If you experience some discomfort, you may use an over-the-counter pain medication. A cold compress on the outside of your face in the area of the onlay can also help with inflammation. If you experience extreme or persistent pain, please phone our office or seek medical attention.
Professional Onlay Solutions In Greeley, Co
Dr. Williams is eager to answer any questions you may have about onlays or any other dental solutions. Contact Ascent Family Dental to speak with our compassionate team or schedule an appointment today. We look forward to helping you maintain a natural and healthy smile.
Improve your oral health with Ascent Family Dentistry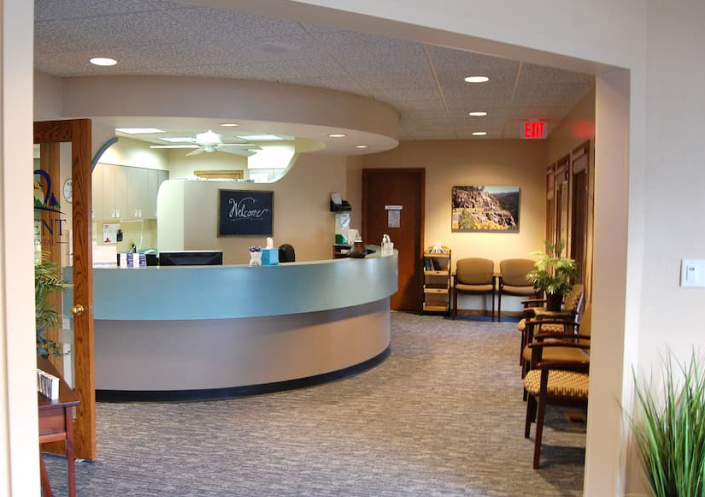 At Ascent Family Dental, we tailor every visit to your specific needs. Whether you're here for routine care or an emergency appointment, we'll make you feel comfortable with our judgment-free, personalized care.