With increasingly advancing dental technologies, patients of Ascent Family Dental can enjoy a more comfortable experience. The hard tissue laser is a powerful yet gentle tool designed to eliminate the need for noisy dental "drills." Enjoy a pain-free experience with the groundbreaking hard tissue laser.
What Is Hard Tissue Laser Dentistry?
A hard tissue laser is an innovative device that uses a focused light beam to target the hard tissues of the mouth. These include the teeth, teeth roots, and jaw bone. The Ascent Family Dental team utilizes the hard tissue laser as part of many dental procedures to quickly and gently address dental cavities, perform filings, and restore your natural teeth.
The hard tissue laser is a very effective tool that has a number of benefits for both the dental team as well as the patient. It often eliminates the need for local anesthetic (localized numbing of the affected area) and is a quiet alternative to the traditional dental "drills."
---
Benefits Of Using A Hard Tissue Laser At Ascent Family Dental
The hard tissue laser offers a plentitude of benefits for Ascent Family Dental patients, including:
Precise control. Given the precision of the hard tissue laser, Dr. Williams has increased control over the beam and, therefore, can perform dental tasks more precisely. If any natural tooth or root must be removed as a result of decay or trauma, the hard tissue laser allows him to remove a smaller portion of the tooth. This allows you to retain more of your natural tooth, helping it remain stronger with less filling or restorative material needed to return it to full function.
Minimized discomfort. Because the hard tissue laser is so precise, patients who undergo procedures with this tool often do not have to experience localized numbing. That doesn't mean the procedure is more painful. In contrast, it's actually far less uncomfortable. The hard tissue laser can eliminate the need for local anesthetic because it desensitizes the tooth as it works to remove damaged tooth material. You will leave Ascent Family Dental with a healthy mouth without the inconvenient numbness.
Quiet experience. The hard tissue laser utilizes a unique technology that eliminates the loud "drill" noise that most patients associate with dental procedures. Instead, Ascent Family Dental's hard tissue laser is quiet and calming.
Reduced risk of infection. Hard tissue lasers aid in the destruction and removal of dental bacteria, which significantly reduces the risk of future infections. The use of the laser contributes to the long-term health of the tooth, also preventing future bacteria buildup.
Top Uses For Hard Tissue Laser
Dr. Williams uses the hard tissue laser for a number of different oral scenarios. Some of the more common uses of the hard tissue laser at Ascent Family Dental include:
Dental fillings
Cavity therapy
Teeth sensitivity
Dental restoration
Teeth whitening
Hard Tissue Laser Vs. Soft Tissue Laser
The most significant difference between the hard tissue laser and soft tissue laser is the types of tissue they target. The hard tissue laser works exclusively on hard tissues, including teeth, tooth roots, and jawbone, while the soft tissue laser is used on soft tissues such as gums and gingiva.
It's very common for Dr. Williams to use both the hard tissue and soft tissue lasers during a single dental procedure. This strategic method allows him to give his patients the best care possible with the appropriate available technology.
Hard Tissue Laser Safety
The light beam emitted by the hard tissue laser is strong enough to cut and break tooth material, which means it can be detrimental to tissues like one's eyes. Therefore, Ascent Family Dental takes the safety of our patients and staff very seriously.
We confirm that each patient undergoing laser therapy wears special protective eyewear when the hard tissue laser is in use. In addition, staff members operating the laser or nearby the laser must don this protective attire as well.
Advanced Technology At Ascent Family Dental
There is no reason to leave the dental office numb or uncomfortable. With the hard tissue laser, patients of Ascent Family Dental can enjoy a calm experience. The noise-free equipment can ensure you stay comfortable throughout your procedure, while the innovative technology that eliminates the need for local numbing agents confirms you also stay comfortable afterward. You can return to your daily life almost immediately following a procedure with the hard tissue laser.
We are thrilled to offer the most convenient and superior care possible. If you have any questions regarding the hard tissue laser technology or would like to schedule an appointment at Ascent Family Dental, please contact our compassionate team today.
Improve your oral health with Ascent Family Dentistry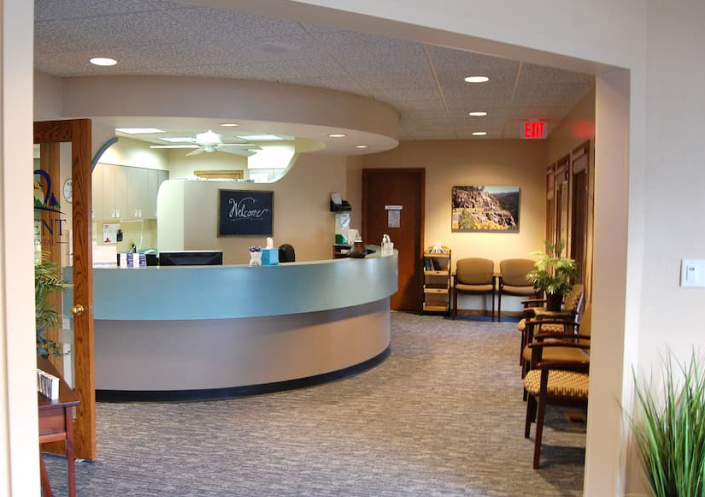 At Ascent Family Dental, we tailor every visit to your specific needs. Whether you're here for routine care or an emergency appointment, we'll make you feel comfortable with our judgment-free, personalized care.