---
Although we still use traditional dental radiographs at Ascent Family Dental for several reasons and scenarios, our CBCT 3D scanner is an alternate diagnostic tool that we also use regularly. This advanced imaging system doesn't just render 2D images of your teeth and jaws—it provides Dr. Williams with 3D diagrams of your entire mouth.
---
What Is A CBCT 3D Scanner?
The cone beam computed tomography (CBCT) 3D scanner is essentially a CAT scan for your mouth. It uses a mild amount of radiation, similar to the radiation used in traditional dental X-rays, to capture a 3D scan of your jaw, roots, and teeth.
Just like a body CAT scan, the CBCT scanner rotates around your head, procuring several hundred individual images in a matter of seconds. Dr. Williams can view each aspect of your jaw and mouth at any angle he desires or view all images stacked on each other as a 3D diagram.
This method can help him plan procedures or dental restoration options with greater accuracy and ease. This safe and quick diagnostic technology is also completely painless.
Cost Of A CBCT 3D Scan
The cost of a CBCT scan can range anywhere from $100 to $500. This innovative diagnostic method is becoming an increasingly more common standard of care. It enables dental professionals to diagnose potential problems earlier, leading to elevated preventive care.
Many insurance policies cover the cost of this powerful diagnostic tool. Be sure to check with your dental health insurance carrier to determine whether they cover all or part of the cost of this technology.
What To Expect From A CBCT 3D Scan
Dr. Williams and his team may recommend a CBCT scan as a preventive tool at your routine exam or during an examination to evaluate an area of concern. Whichever the case, the process will remain the same.
Our team will first position you at/in the device. The scanning apparatus involves a seat and a slender device surrounding your head that will capture the images. The device will not completely surround you—very few of our patients ever feel claustrophobic given how minimal the device truly is.
After you are seated, and the equipment is adjusted correctly to your height, one of our team members will stabilize your chin in a comfortable chin rest. You can leave your mouth closed and comfortable for the imaging. You will remain still during the duration of the scan—approximately 30 to 45 seconds.
Innovative Diagnostic Technology In Greeley, Co
Dr. Williams and his team at Ascent Family Dental are pleased to offer this innovative and safe diagnostic tool to all existing and new patients. Should you have any questions regarding the CBCT 3D scan apparatus or procedure, feel free to contact our office today.
Improve your oral health with Ascent Family Dentistry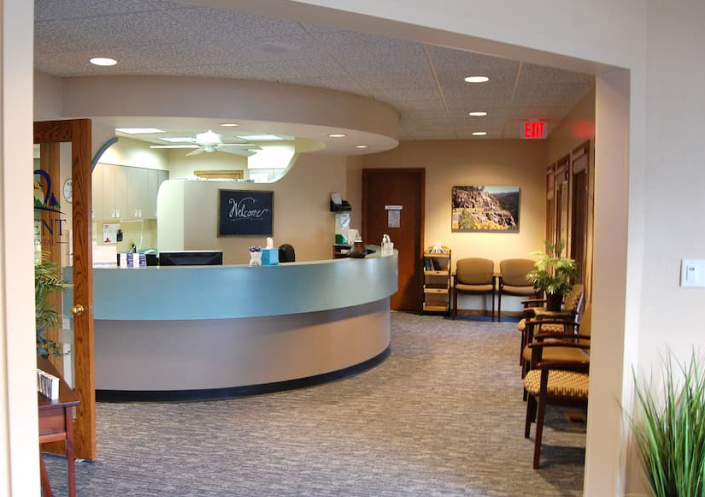 At Ascent Family Dental, we tailor every visit to your specific needs. Whether you're here for routine care or an emergency appointment, we'll make you feel comfortable with our judgment-free, personalized care.