---
Advancing technologies in modern dentistry allow Dr. Williams to complete dental procedures in a comfortable and timely manner. They even allow him to create prosthetic dental components, giving you a brand new, natural smile in just a single visit. With CAD/CAM technology, Ascent Family Dental can create customized dental elements in mere hours.
---
What Is CAD/CAM Dentistry?
Although they are often mentioned in the same breath, CAD/CAM dentistry has two components: CAD is the acronym for computer-aided design, whereas CAM translates to computer-aided manufacturing. Both factors are instrumental in modern dentistry and are used together to create prosthetic dental components for Ascent Family Dental patients.
For those patients who require a dental crown, full or partial dentures, veneers, bridge, or any other dental prosthesis, CAD/CAM is the technology that enables sturdy and natural-looking restoration options. This methodology is used in both specialized dental laboratories and private dental offices, like Ascent Family Dental.
Benefits Of CAD/CAM Technology
The CAD/CAM process has a number of advantageous benefits, including:
Lower overall investment. One might assume that creating dental components in-office through CAD/CAM technology would cost more than other options, but it is actually more cost-effective than most other options. One significant reason is the eliminated need for temporary appliances or additional follow-up appointments. That means you do not have to pay for the temporary prosthetics or the second visit to have your permanent pieces fitted. When using CAD/CAM technology, high-quality, permanent prosthetics are made to fit your mouth. They're also made to last. You'll be fitted for these components at the same visit and be on your way.
Decreased wait time. Given the ability to create customized prosthetics in a matter of hours, patients of Ascent Family Dental do not need to wait weeks for their permanent fixtures. With traditional methods, Dr. Williams would place a temporary dental component like crown or bridge, designed to protect the vulnerable tooth or root. These temporary fixtures are generic sizes and often do not fit correctly. After the reference laboratory creates and sends the customized prosthetic, Dr. Williams would have you return for a second appointment, during which he would fit and secure your permanent prosthetic. All of these steps are completely eliminated with the new CAD/CAM technology. There's no need to wait for the creation of your customized, permanent piece, as it can be created in-office in mere hours. Dr. Williams can then ensure it fits correctly and modify the fixture if needed. You leave our dental office with a perfect smile on the same day.
Digital dental scans. Impressions of the mouth have long been known as a messy process—you must bite down on a gooey substance in order to obtain a mold of the mouth. With CAD/CAM technology, all scans at Ascent Family Dental are now completed digitally. This means a mess-free and speedy procedure. These digital scans are also more accurate than the traditional methods.
What To Expect From The CAD/CAM Process
When you present to Ascent Family Dental for your CAD/CAM appointment, Dr. Williams and his staff will ensure any questions you might have are answered before beginning. The CAD/CAM process includes the following steps:
Pre-procedure preparation: Dr. Williams and his team will prepare your teeth by cleaning them thoroughly. They will begin by removing any plaque, tartar, or dental decay at the procedure site and surrounding areas.
Digital scan: A comprehensive digital scan is then performed to obtain a 3D image of the area.
Restoration design: Using the computer-aided design (CAD) software, our team will use these 3D images to design your customized restoration piece.
Milling/Shaping: After the desired design has been achieved, the dental prosthetics can take true shape using computer-aided manufacturing (CAM) technology. The milling process involves the creation of the veneer, denture, crown, inlay, or bridge from ceramic.
Customization: After the dental fixture has been completed, it is tailored to fit your exact preferences and oral structure. Dr. Williams will ensure that the new piece perfectly matches your natural teeth to provide you with a seamless smile.
Completion: As the final step, our team will permanently adhere the fixture to your teeth to give you a dependable and strong placement. Dr. Williams will check the fit, bite, and feel of your new prosthetic to confirm that you are happy with the results. Dr. Williams can quickly and efficiently complete them before you leave the office if any modifications need to be made.
CAD/CAM Timeframe
You may wonder how long the entire CAD/CAM process takes. Just as each custom piece Dr. Williams creates is unique, so too is the process. Your procedure may take as little as 45 minutes from start to finish, up to several hours. The amazing thing about using the CAD/CAM is that your customized fixtures and placement can be completed in a single day—with only one visit.
Natural, Fast, Customized Dental Prosthetics At Ascent Family Dental
Dr. Williams and his knowledgeable team are thrilled to offer our patients the innovative technology of the CAD/CAM system. This solution ensures you leave the dental office with a correctly fitting and permanent dental fixture the same day—rather than being sent home with a poorly-fitting temporary prosthetic.
Your comfortable and confident smile are our top priorities. To learn more about how our team can create customized dental fixtures in a single day with CAD/CAM, please contact our experienced staff today.
Improve your oral health with Ascent Family Dentistry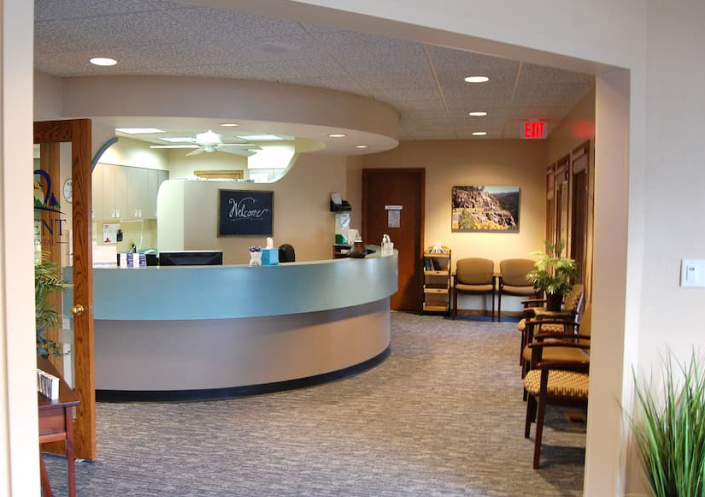 At Ascent Family Dental, we tailor every visit to your specific needs. Whether you're here for routine care or an emergency appointment, we'll make you feel comfortable with our judgment-free, personalized care.